Recent Projects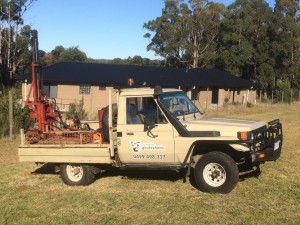 Pavement Investigations for Clarence City Council, Hobart City Council and Hutchinson Builders
Site Investigations for local government and private clients (various)
Quarry audits for DSG G6 Specification at St Helens Quarry and Hazell Brothers quarries
Bridge replacement – Southern Midlands Council
Bridge replacement – Kingborough Council
Site Classifications for new houses and extensions (various)
Geotechnical Investigations for proposed stormwater pipeline and proposed light poles
Subsurface Investigations and sewer line locations for proposed grease trap structure, various
Geotechnical investigation – for proposed wastewater treatment plants upgrade
Geotechnical investigation – for upgrades and extensions at various service station sites
Past Projects
Pavement investigations
Pavement Investigations for Glenorchy City Council, Dorset Council, Southern Midlands Council, Central Coast Council and Clarence City Council;
Kangaroo Bay Redevelopment – pavement investigation (CCC);
Pavement Investigations (various) – various investigations for new and failed sections of road across Tasmania, including East Derwent Highway, Bridport Main Road and Mud Walls Road;
Lyell Highway Upgrade – project management, field mapping, site supervision and reporting for geotechnical investigations undertaken along three sections of the highway;
Department of Infrastructure, Energy and Resources – pavement investigations and land stability assessments (various locations);
Flood Remediation Works, Queensland Main Roads – managing the deployment of a pavement deflection-testing truck across several hundred kilometres of regional Queensland roads following the 2009/2010 floods;
Kingston Bypass – investigation for the proposed highway alignment, including bridge and underpass structures;
Dilston Bypass – investigation of sections of new highway, including underpass and bridge structures;
Pavement Failure, River Road, Burnie – investigation for Burnie City Council of failed industrial pavement, including inclinometer installation and analysis.
Landslide investigations
Landslide remediation works, Bell Bay, Relbia and Melba Line (TasRail);
TasRail, Campania Landslip – investigation and design of remedial works at a failure site on the main Hobart-Launceston rail line;
Barrington Lodge, New Town – investigation of landslip and supervision of remedial earthworks.
Geotechnical Investigations – Bridges
Bridge Replacement, Brown Mt Road, Campania (SMC);
Bangor Road Bridge Replacement – investigation to furnish design of new road bridge at Lilydale.
Quarry assessments
Quarry assessments for BIS, Northeast Excavations, Hazells, Stornoway, Boral and other clients (various locations).
Geotechnical Investigations – Mining
Gwalia Deeps Raise Bore Shaft – St Barbara Ltd, Leonora WA – logging and geotechnical assessment of ground conditions for the construction of a large-diameter, 1.3km-deep vertical ore haulage shaft at the Gwalia gold mine.
Geotechnical Investigations – Dams and Levees
Launceston Levees – investigations of several sections of levee and river bank to ascertain geotechnical parameters for the design and construction of replacement levee. The work included extensive drilling, electric friction cone penetrometer (efcp) testing and shear vane testing using a penetrometer rig.
King Island Scheelite – investigation for fresh water and mine tailings dams at the Grassy scheelite mine;
Scotia Mine, Gladstone – investigation for tailings and fresh water storage dams
Gunns Evandale Dam – investigation for a large fresh water storage dam at Gunns vineyard, near Evandale;
Trevallyn Dam – geotechnical investigation for Hydro Tasmania, including supervision of drilling operations in the dam's gallery;
Dee Dam – field mapping and interpretation of structural geology at the Dee Dam for Hydro Tasmania;
Launceston levees topsoil contamination testing (LCC).
Geological Mapping
Cataract Gorge Bridge, Launceston – geological mapping and investigation of replacement suspension bridge anchors.
Environment Site Assessments
Gilbarco, Launceston Airport – contamination assessment for decommissioning of underground fuel storage tanks;
Transend Substation, Norwood – contamination assessment and geotechnical investigation for proposed extension to switchyard;
Turners Beach – contamination assessment for the decommissioning of an underground fuel storage tank and associated infrastructure;
Geotechnical Investigations – civil projects
Woolworths Burnie Extension – geotechnical investigation for building extension and new carparking areas, including an assessment of ground stability for installation of a new substation;
Hydro, Bell Bay – geotechnical investigation for proposed mass footings for several gas-powered turbines;
Communications Tower, Ridgley – investigation for a proposed monopole structure at Ridgley for Powercom Systems P/L;
Brighton Transport Hub and Brighton Bypass – undertaking of large-scale geotechnical investigations at both the Hub and Bypass sites, including project management, mapping, site supervision, analysis and reporting;
Forestry Tasmania Nursery, Perth – investigation for the proposed relacation of a coolstore on a shallow fill platform;
Department of Education, School Upgrades – various geotechnical investigations for extensions and new buildings at a number of schools across Tasmania;
Esk Water, Trevallyn – Investigation for proposed extension to existing treatment facility;
Roman Baths, Launceston – investigations for proposed multi-storey redevelopment of York Street building;
TasPorts, Bell Bay – investigation for proposed reclamation works, including barge drilling, core logging, laboratory testing and reporting;
Transend Substation, Mowbray – investigation of transmission route, tower placement and substation site, including drilling and analysis of soft sediments, conducting down-hole resistivity surveys and reporting;
Works Infrastructure – various investigations for replacement bridges and road reconstruction projects across Tasmania;
Gunns Pulp Mill, Longreach – large-scale investigation of proposed mill site and storage dams, including establishment of a groundwater monitoring network;
Ben Lomond Water – investigation of several new and existing water treatment plants at various locations;
Launceston Aquatic Centre – several investigations for Launceston City Council's regional aquatic centre redevelopment, including foundation assessment, drilling, seismic monitoring, analysis and reporting;
Parliament Square, Hobart – investigation and reporting of subsurface conditions at the Parliament Square development site, undertaken for the Department of Treasury;
Warrane Oval Light Towers, Clarence City Council – investigation of new light towers locations using a penetrometer rig;
Bunnings Warehouse – investigations for new stores at Burnie and Kingston;
Hydro Tasmania – Investigations for new substations at Kingston and Mornington;
Menzies Centre Stage II, John Holland-Hazell Brothers – extensive ground investigation and assessment of footing systems for the proposed building;
Taroona-Sandy Bay Wastewater Pipeline, Southern Water – investigation of proposed route of new wastewater main, including analysis of excavation conditions for tenderers;
KGV Oval, Glenorchy City Council – investigation of existing soccer field to inform the design and installation of a new artificial playing surface.