Statewide Geotechnics is a Tasmanian geotechnical consultancy business providing a range of services to clients including private individuals, government, councils, developers, engineers, architects, builders, building designers, civil companies, surveyors and quarry operators. Our work ranges from small residential to large infrastructure projects.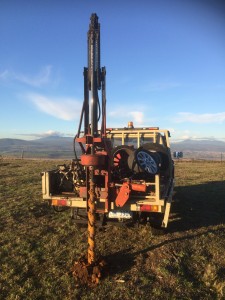 Statewide Geotechnics is Tasmanian family owned business and prides itself on meeting the needs of clients in a prompt and professional manner. Statewide Geotechnics has the services of an Engineering Geologist, Drew Bedelph, supported by resources including our own Proline drill rig and associated ground testing equipment.
Drew has experience in a broad range of civil and geotechnical projects, including dam, bridge and embankment investigations, geophysical mapping and surveys, site classifications, building developments, environmental site assessments, project management and site supervision works. Drew has conducted various large-scale geotechnical investigations for both Government and private-sector clients, and is responsible for geological assessments of a number of quarrying operations around Tasmania.
Geotechnical assessments, investigations and reports including site classifications can only be properly performed by a "suitably qualified and experienced geotechnical practitioner" who also has professional indemnity insurance. A "suitably qualified and experienced geotechnical practitioner" in Tasmania and across Australia means either a specialist geotechnical engineer or an engineering geologist. Drew is an Engineering Geologist with a Bachelor of Science (Hons.) with a major in geology and holds appropriate professional indemnity insurance.
Statewide Geotechnics is based in southern Tasmania but services the whole of the State with weekly visits to North and North-West Tasmania.